Ask a Librarian - Contact Us
See Frequently Asked Questions (FAQ)
Chat Live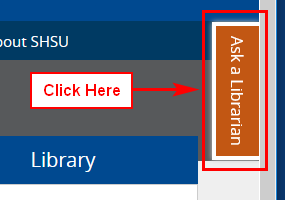 Please click the "Ask a Librarian" tab on the right side of your browser screen to begin live chat.
Security Notice: We cannot guarantee that chat is secure, so DO NOT provide SamID number, social security number, passwords, or other private information.
Text
Just text your question to 936-229-3764 .
Learn more about Text a Librarian...
Standard message and data rates may apply.
E-mail
Contact the Library by e-mail at Library@shsu.edu.
Call
Call the library at 936-294-1614, or toll-free at 1-866-NGL-INFO (645-4636).
Fax
Public Fax (Located in the Copy Room): 936-294-3615
Visit
Come visit us and get assistance at the Library Service Desk, located on the second floor of the Newton Gresham Library on the SHSU campus.
STREET ADDRESS:
1830 Bobby K. Marks Dr., Huntsville TX 77340
Mail / Postal
MAILING ADDRESS:
Newton Gresham Library
Sam Houston State University
SHSU Box 2179
Huntsville TX 77341
Departments & People