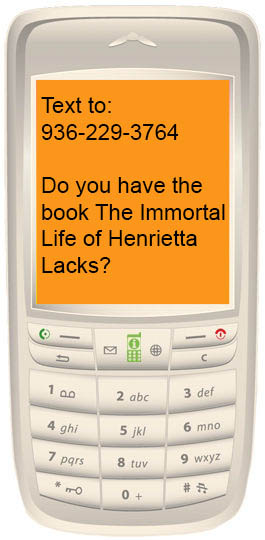 How Do I Text a Librarian?
Send any text message to 936-229-3764.


Examples:

what time do u close 2night?
do u have the book freakonomics?

Save 936-229-3764 in your contact list so you can always find us to ask your question!
Standard message and data rates apply.
Why Would I Text a Librarian?
You might use Text a Librarian to get quick answers to questions about . . .
Library hours
Whether the library has a book, and
Whether a book is checked out
Book renewal
Late fines
What database to search for journal articles on a topic
Where an office or class is located on campus
Phone number to a campus office or department
Cost of copies, color copies, etc.
. . . And many more questions that are sure to come up during the semester!