Ask a Librarian - Contact Us
See Frequently Asked Questions (FAQ)
Chat Live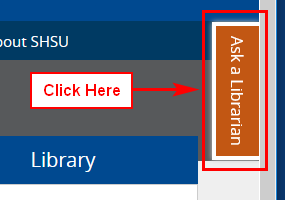 Please click the "Ask a Librarian" tab on the right side of your browser screen to begin live chat.
Security Notice: We cannot guarantee that chat is secure, so DO NOT provide SamID number, social security number, passwords, or other private information.
Text
Just text your question to 936-229-3764 .
Learn more about Text a Librarian...
Standard message and data rates may apply.
E-mail
Contact the Library by e-mail at Library@shsu.edu.
Call
Call the library at 936-294-1614, or toll-free at 1-866-NGL-INFO (645-4636).
Make an Appointment with a Librarian
Request a one-to-one research consultation with a librarian:
All questions are welcome, but research consultations work best when you need to speak with a librarian and see their screen as they explain search techniques, etc. If you have a simple question or don't have time for an appointment, please consider other options listed on this page, including email, text, or chat, which are available every day. These scenarios are good examples of times when a research consultation is a good fit:
You have a research assignment, but you're not sure how to get started.
You've been searching for information on your research topic, but just can't find what you need.
You're new to online libraries and would like an in-depth "tour" of the available library resources to support your learning and research needs.
Fax
Public Fax (Located in the Copy Room): 936-294-3615
Visit
Come visit us and get assistance at the Library Service Desk, located on the second floor of the Newton Gresham Library on the SHSU campus.
STREET ADDRESS:
1830 Bobby K. Marks Dr., Huntsville TX 77340
Mail / Postal
MAILING ADDRESS:
Newton Gresham Library
Sam Houston State University
SHSU Box 2179
Huntsville TX 77341
Departments & People