Computers, Printers, Laptops, and Collaboration Tables
On this page:
Computer Workstations & Printers
Adaptive / Assistive Technology
Collaboration Tables
Laptops: Bring Your Own or Borrow Ours!
Wireless Printing from Laptops
Computer Workstations & Printers
The Reference area on the 2nd floor provides 28 PC computers and two printers.
These computers are intended for library research, including group work.
Unattended computers in this area will be reset after 10 minutes; unsaved data may be lost.
Room 200, also on the 2nd floor, is home to an IT@Sam computer lab with 79 PC computers, 3 Macintosh computers, 2 printers, 3 scanners, 2 ADA workstations, 1 projector, and 1 webcam. Get more information about IT@Sam labs on campus.
These computer areas are often busy and may not support quiet independent study. Looking for a quiet place to study? We can help you find one.
Adaptive / Assistive Technology
The Adaptive Technology Area on the 2nd floor provides visually impaired students with tools such as large-screen monitors, scanners, a Braille printer, and specialized software programs. Learn more about adaptive technology in the Library.
Collaboration Tables
Collaboration Tables allow you to connect a laptop to a large-screen monitor to share your screen on a larger scale. This is an excellent tool for group work.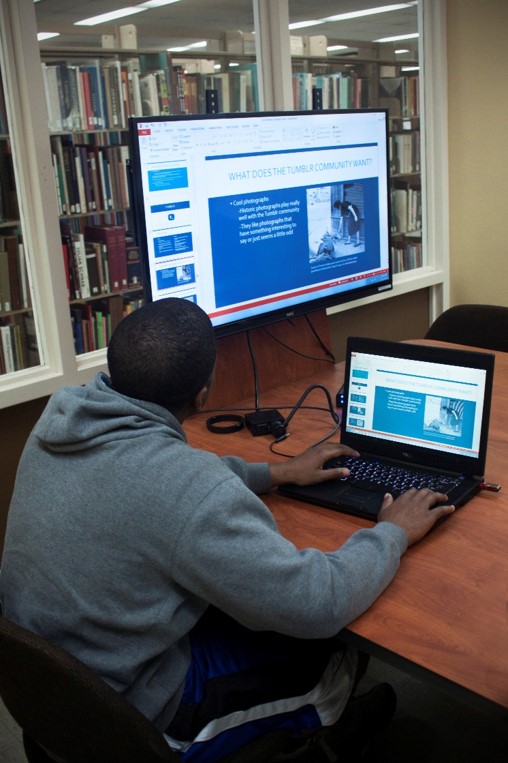 Three collaboration tables are available in the Library:
1st floor - copy room (room 141)
2nd floor - Reference section
3rd floor - room 307 (checkout required; see the Circulation Desk)
Use the cable to connect your laptop/device to the TV. If the standard cable does not fit, please go to the Circulation Desk. We can lend you:
A cable adapter to connect your device to the TV (please bring the device with you); or,
A laptop that works with the existing TV cable
Questions? Visit the Circulation Desk (main floor) or call 936-294-1599.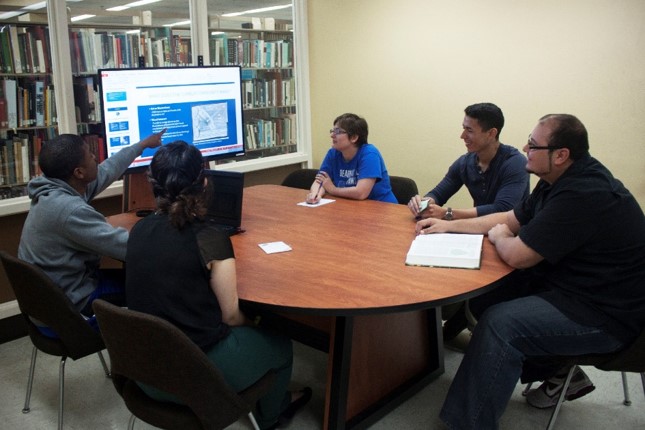 Laptops: Bring Your Own or Borrow Ours!
Personal laptops are welcome and can access the SHSU wireless network.
Laptops may be borrowed from the library for use inside the building.

The equipment is available on a first-come, first-served basis.
An SHSU I.D. or TexShare I.D. card is required in order to check out a laptop.
Once checked out, they may be used until 15 minutes before closing of the same day.
You will be asked to read the policy and sign the document stating that you understand the policy and your financial responsibility in the event that the equipment is returned damaged.
Laptops borrowed from the library can access the SHSU wireless network, and your personal USB drive may be used with them.

Need to plug in? Power outlets are located around the building's perimeter, or use one of our convenient mobile charging stations. Be careful not to create trip hazards with power cords; users with cords strung across a walkway may be asked to move to a different location.
Wireless Printing from Laptops:
Both PC/Windows and Mac laptops can print wirelessly to networked campus printers.
To print wirelessly in the Library, select nglref-1 or nglref-2 (both located in the Reference area on the Library's 2nd floor).