The Library authors two blogs on WordPress for your information and reading pleasure: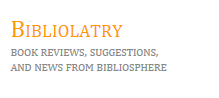 In the blog Bibliolatry, our English Librarian Michelle Martinez and occasional guest bloggers share book reviews, reading suggestions, and news from the "bibliosphere."

In the blog Out of the Box! Treasures of Newton Gresham Library, unique items in the Special Collections, Digital Collections, and University Archives are highlighted by Digital Resources Librarian James Williamson and Special Collections Librarian Felicia Williamson.